The SHAPES Project held its 3-day plenary from the 13th to the 15th of September 2022 in Thessaloniki, Greece. This was the first time the project consortium partners met in person for the first time, since the kick off meeting back in 2019. The objective of this internal meeting was to discuss key issues within the project, hold its General Assembly and make plans for the final year of the project, which ends in October 2023.
Lucia D'Arino, WFDB Program Advisor and focal point in the SHAPES Project, presented and led a discussion on the inclusion of older persons with deafblindness and other disabilities as well as the accessibility of the project.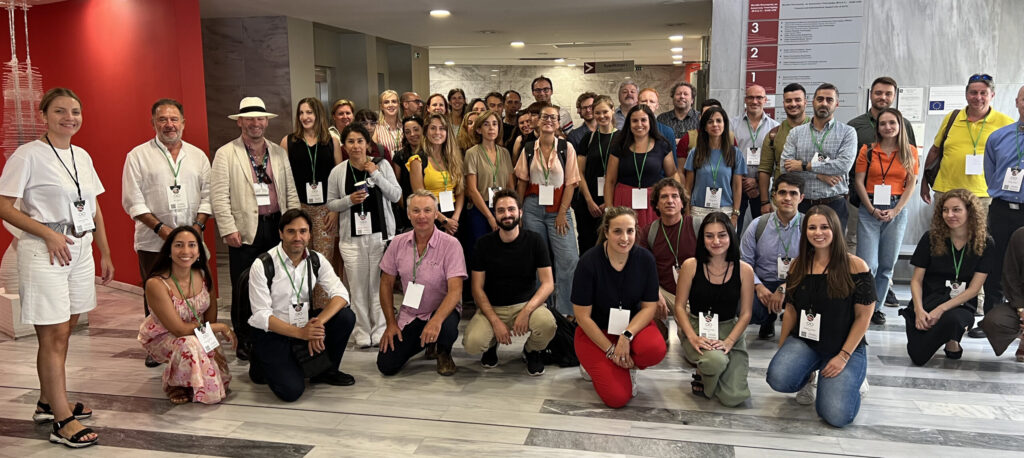 Lucia's presentation consisted of:
Overview of the situation of persons with deafblindness in the world and more specifically, Europe
WFDB's general objectives in the project
Activities carried out by WFDB within the project
Future plans
Barriers encountered within the project
Recommendations
Useful resources
Discussions followed in which partners had an opportunity to share their concerns, questions and lessons learnt in terms of accessibility and inclusion.
WFDB's main recommendations for the project and its partners included:
Priotise accessibility since its relevant to all the components of the project
Involve and consult the disability community from the beginning, in all processess
Do not assume that technology can always replace human contact and assistance

Lucia D'Arino giving out a presentation

Do not leave underrepresented groups behind: adopt an intersectional approach in your work
Allocate resources and a budget to ensure the inclusion of persons with disabilities
We would like to thank Maynooth University for organising the Plenary and The Aristotle University of Thessaloniki for hosting the event.
More information